Marloes celebrates its heritage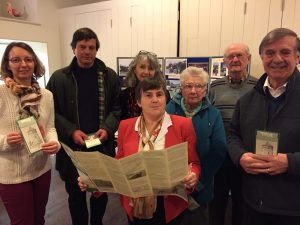 A leaflet celebrating Marloes' rich heritage has been produced by the Coastlands Local History Group with support from PLANED. The launch of the leaflet coincided with an exhibition on Marloes history held over the two days in late January with over 150 people attending the exhibition.
Speaking at the launch Yvonne Evans, a member of the group said: "Marloes has many fascinating aspects to its past, which are not very well known. We wanted to spread the word about Marloes' heritage and the working group have done extensive research over the past year.  We are grateful to all those who contributed to the leaflet with specific information and to the local artists who kindly produced the drawings."
Kate Lindley of PLANED, who supported the group in their research and the production of the leaflet, said: "The Coastlands Local History Group's work is an excellent example of local people showcasing their heritage through providing enjoyable and informative experience to visitors and locals."
PLANED has assisted the Coastlands group in production of Dale and St Ishmaels heritage leaflets in the past and Marloes is a new addition to this collection. The leaflets will be distributed locally and a copy can be picked up from the Village store and the Old Stables Heritage Centre, Dale, which is being open on Thursday mornings at present.